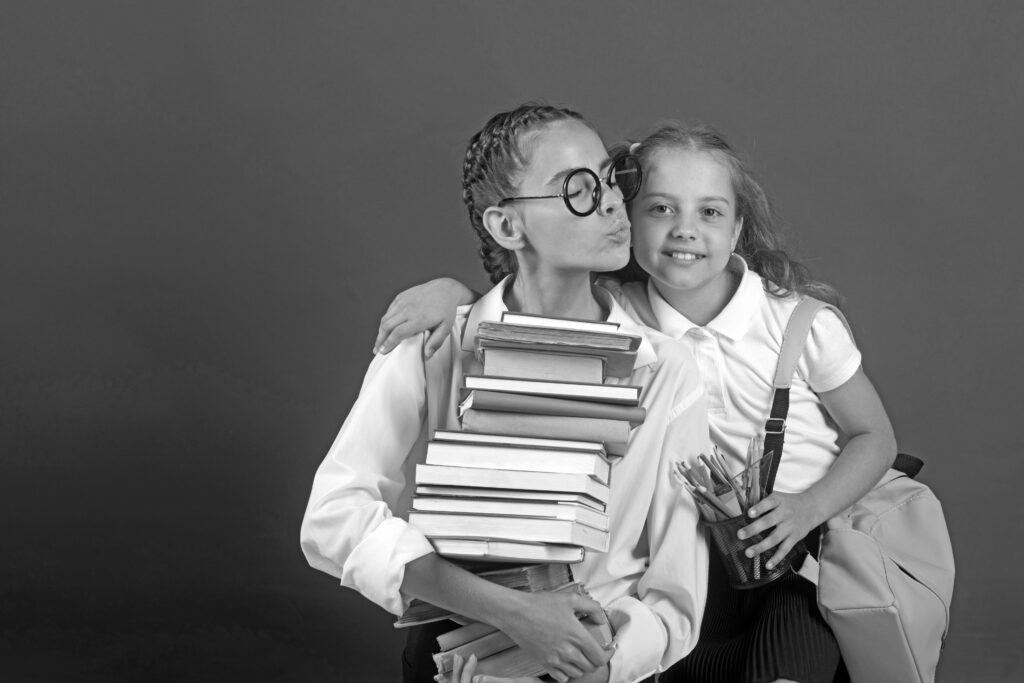 In the 2022-2023 school year, we are pleased to offer an a la carte menu — valuable classes into which you can enroll your homeschool middle school students (we define "middle school" as age 12-14 as of the first day of school) while still maintaining your status as an independent homeschooler. Here are our current class offerings:
Three Days Per Week
Logic: Using the text Introductory Logic: The Fundamentals of Thinking Well, students will spend a year tackling syllogisms and fallacies and learning to craft good arguments (and identify bad ones). ($800, M/W/F 11-11:30 AM)
Two Days Per Week
Latin: Using Cambridge Latin Unit 1, students will not just be learning about Latin — they will be learning to read it and write it. The will also learn much of Roman history and culture, which will give them insight into where their own culture comes from. ($800, Tu/Th 12:45-1:30 PM)
Choir: Group music — learning to create beautiful sounds together, coming to understand the meaning of harmony — is an important part of a classical education. ($200, Tu/Th 1:30-2:15)
One Day Per Week
Biology: Using the book Men, Microscopes, and Living Things, students will be introduced to the principles and tools of biological study, food webs, life processes, some anatomy, adaptation, natural selection, extinction, cell theory, simple genetics, and reproduction. It's all real science, and it's all appropriate for the middle school years. Activities and experiments included with curriculum fee. ($500 + $50 materials fee, M 11-11:45 AM)
Humane Letters: Plutarch and Shakespeare: Shakespeare and Plutarch are two original sources that ought not to be missed in a classical education. This one-hour class includes reading and thinking through at least two of Plutarch's Lives, and reader's theater-style experience with Shakespeare's best plays. ($500, Tu 11-noon)
Rhetoric: Poetry: Using Grammar of Poetry, students will learn scansion, rhyme, meter, and other tropes and will also try their hands at writing poetry of their own. ($500, W 1-1:45 PM)
Physics: Using Secrets of the Universe, students will be introduced to the universal laws of science, including those for liquids and gases, matter and energy, and motion and waves. This class includes demonstrations and experiments that illustrate the laws. ($500 + $50 materials fee, F 11-11:45 AM)
Weekly Schedule
Here is an example week: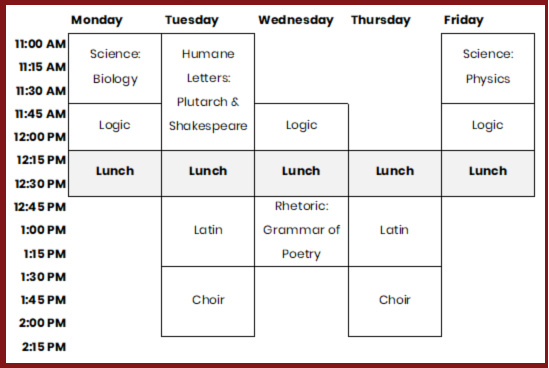 Lunch Policy
To make pickup and dropoff times more flexible, homeschool students may remain on campus during lunch if they have a class directly before or directly following lunch.
Apply Today!
Do you also have younger students? Click here for information our homeschool Friday Enrichment Program for elementary students.